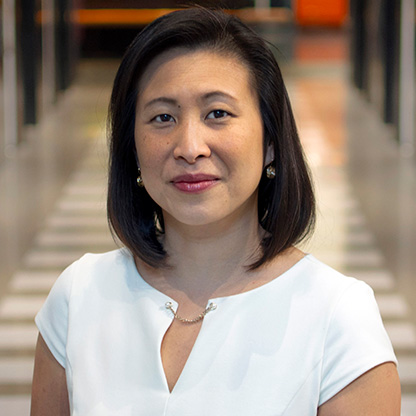 Innovator and Change Agent Felicia Yue Headlines Women in Technology Luncheon
HPA and SMPTE announced today that Felicia Yue, Principal Product Manager at Amazon and veteran sports technology innovator, will be in conversation at the annual Women in Technology Luncheon on Thursday, November 12, presented by HPA Women in Post and SMPTE. The event takes place during the popular annual technology conference SMPTE 2020. Yue will be in conversation with Loren Nielsen and Kari Grubin, co-chairs of the HPA Women in Post Committee.
"Felicia is an extraordinarily inspiring and engaging speaker, bringing an incredible perspective from her successes deep in the trenches of sports technology along with an amazing life story, with the stories to show for it," said HPA Women in Post co-chair Kari Grubin. "She has a keen sense of the industry's arc and speaks to both the specifics of her work across various game changing sports organizations and the industry transformation she has witnessed over the years. We are delighted and excited that she'll be with us!"
Felicia Yue grew up in Queens, New York in a traditional Chinese household. In her childhood, she realized that sports were a way to fit in socially. After learning to code and play the piano from her mom, Felicia got a degree in Economics and started her career in corporate finance. Three years later she joined the crew of Monday Night Football, where she was the only woman, helping to develop and launch virtual enhancements like the Emmy-winning 1st & Ten line (a.k.a. "the yellow line") for NFL fans, along with other products for fans of the Olympics, Major League Baseball, the NBA, and the Champions League. Along the way, she got her MBA from Columbia Business School, dabbled in Product Marketing for Procter & Gamble, scrubbed penguin guano at the Monterey Bay Aquarium, and worked as a ranch hand on a humane pig and chicken farm in the Bay. Now, as a Principal Product Manager for Amazon, Felicia is focused on bringing sports fans the next wave of innovative features that will make watching sports a best-in-class experience on Prime Video.
Each year, the popular Women in Technology Luncheon brings together the HPA Women in Post community and other conference attendees for engaging conversations with thought leaders, innovators, and technologists. Previous speakers have included Madeline DiNonno, Victoria Alonso, Wendy Aylsworth, Cheryl Boone Isaacs, and Michelle Munson.
Tickets for the Women in Technology Luncheon are included with the all access pass to the conference, and can also be purchased as a Thursday-only conference registration. Registration and other information can be found at https://2020.smpte.org/.