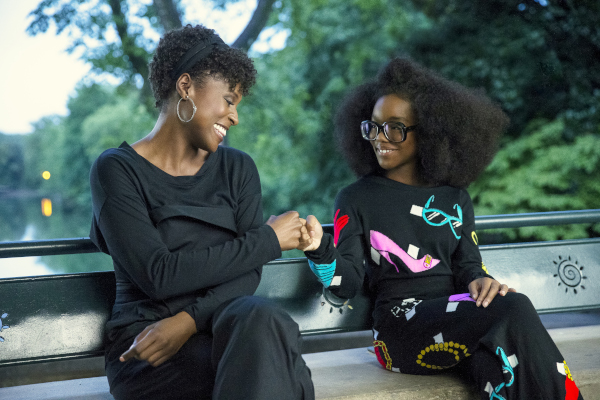 FotoKem Provides End-to-End ACES Finishing for Little from Universal Pictures and Legendary Pictures
BURBANK, CA (May 1, 2019) – There's nothing small about the bicoastal post-production workflow provided by FotoKem for Universal Pictures' and Legendary Pictures' Little. FotoKem's Atlanta and Burbank facilities supported the production from digital dailies through finishing with a full ACES finish for this fantasy comedy.
From blockbuster producer Will Packer (Girls Trip, Night School, the Ride Along franchise) and director and co-writer Tina Gordon (Peeples, Drumline), Little tells the story of a tech mogul (Girls Trip's Regina Hall) who is transformed into a 13-year-old version of herself (Marsai Martin), and must rely on her long-suffering assistant (Insecure's Issa Rae), just as the future of her company is on the line. Martin, who stars in the TV series Black-ish, had the idea for the film when she was 10 and acts as an executive producer on the film. She is the youngest person to hold that title on a major Hollywood production.
Principal photography for Little took place last summer in the Atlanta area. FotoKem's Atlanta location provided digital dailies with looks developed by FotoKem colorist Alastor Arnold alongside cinematographer Greg Gardiner (Girls Trip, Night School) who shot with Sony F55 cameras.
"Greg likes a super-clean look, which we based on Sony color science, with a warm and cool variant and a standard hero LUT," says Arnold. "He creates the style of every scene with his lighting and photography. We wanted to maximize his out-of-the-camera look and pass it through to the grading process."
FotoKem responded to the sharp growth of production in Georgia, and entered the Atlanta market five years ago to offer on-the-ground support for creatives. "FotoKem Atlanta is an extension of our Burbank team with colorists and operations staff to provide the upfront workflow required for file-based dailies," says Senior Vice President Tom Vice of FotoKem's Creative Services Division. "Atlanta is an exciting place to be, and we're thrilled to be part of that community."
When editor David Moritz and the editorial team moved to Los Angeles, FotoKem sent EDLs to its nextLAB dailies platform, the facility's proprietary digital file management system, where shots for VFX vendors were transcoded as ACES EXR files with full color metadata. Non-VFX shots were also automatically pulled from nextLAB for conform. The online was completed in Resolve.
The DI and the film conform happened concurrently, with Arnold and Gardiner working together daily. "We had a full ACES pipeline, with high dynamic range and high bit rate, which both Greg and I liked," Arnold says. "The film has a punchy, crisp chromatic look, but it's not too contemporary in style or hyper-pushed. It's clean and naturalistic with an extra chroma punch."
Gordon was also a key part of the collaboration, playing an active role in the DI, working closely with Gardiner to craft the images. "She really got into the color aspect of the workflow," notes Arnold. "Of course, she had a vision for the movie and fully embraced the way that color impacts the story during the DI process."
Arnold's first pass was for the theatrical grade and the second for the HDR10 grade. "What I like about ACES is the simplicity of transforming to different color spaces and working environments. And the HDR grade was a quicker process," he says. "HDR is increasingly part of our deliverables, and we're seeing a lot more ACES workflows lately, including work on trailers."
FotoKem's deliverables included a DCP, DCDM and DSM for the theatrical release; separations and .j2k files for HDR10 archiving; and ProRes QuickTimes for QC.