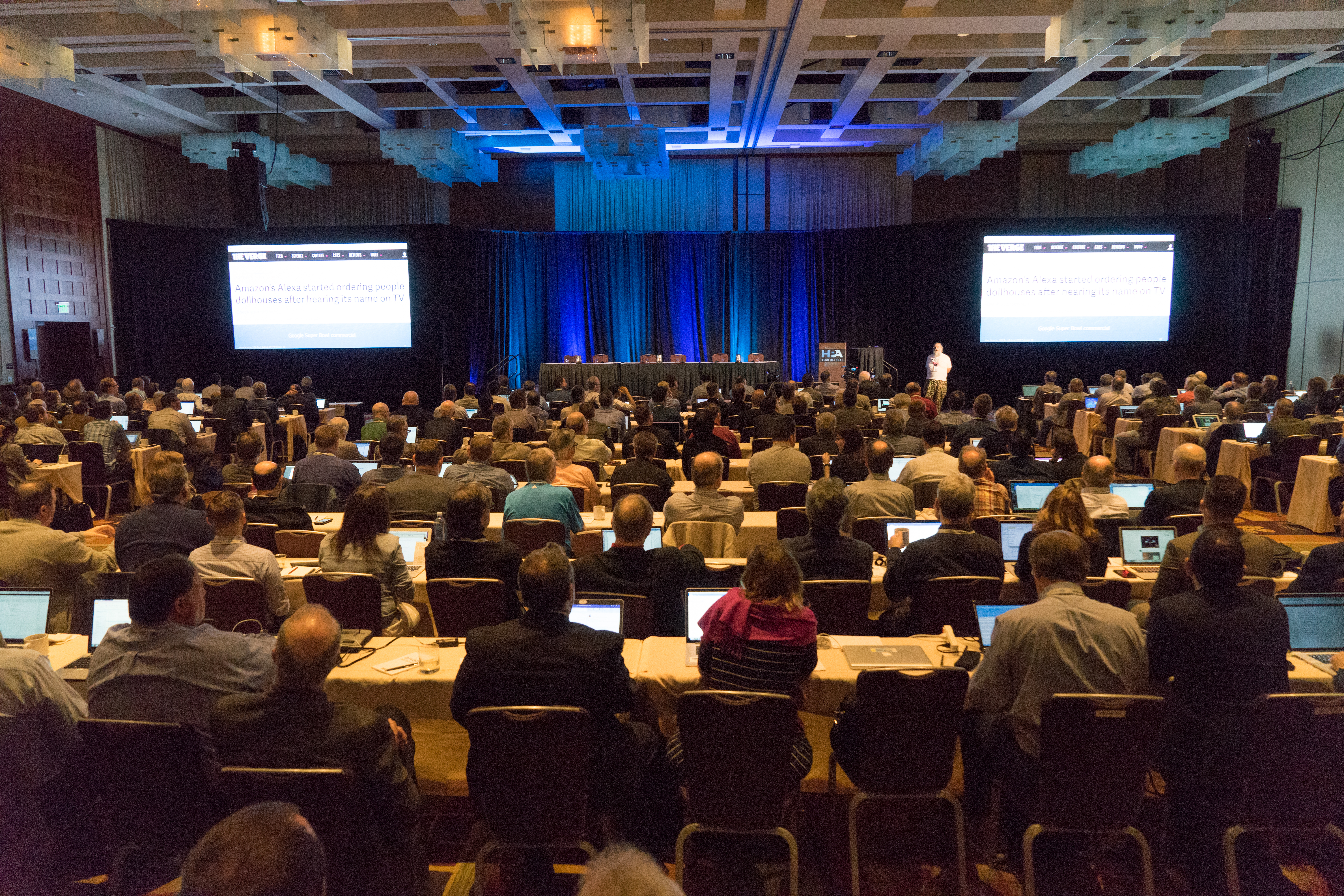 2018 HPA Tech Retreat Program Announced
LOS ANGELES 19 December 2017 –– The Hollywood Professional Association (HPA) has announced the schedule for the 2018 HPA Tech Retreat®, set for 19-23 February 2017. The Tech Retreat is an incomparable opportunity to meet and engage with well-known and emerging leaders in engineering, technology, creativity and business. The HPA Tech Retreat takes place in the Palm Springs area over the course of a week. Participants confer on future trends and technologies of the media and entertainment ecosystem while tackling issues of the present from fresh perspectives. The Tech Retreat offers unparalleled access to a wide range of in-depth information, facilitating a nuanced and informed view of industry trajectories. The Tech Retreat heads to a new venue this year, the JW Marriott Resort & Spa in Palm Desert, CA.
The retreat features five days of scheduled sessions, demonstrations and events including the separately ticketed HPA Tech Retreat eXtra (TR-X), to deliver a forward-looking perspective on an industry continuing a dynamic and rapid evolution. Over the course of the carefully curated week, important aspects of production, broadcast, post production, distribution and related endeavors for the media and entertainment landscape are explored. The sessions are decidedly non-commercial in nature; marketing submissions are not considered. From breakfast roundtables and sessions to dinners and fire-pit conversations, the schedule creates an environment conducive to the exchange of knowledge and information.
Mark Schubin, the Program Maestro of the HPA Tech Retreat, commented, "This year's program might be the best ever, covering everything from "fake news" to direct-view screens in movie theaters.  And that's not counting live VR, eSports, Pixar's approach to worldwide cultural differences — everything from cinematographers to consumer electronics."
Seth Hallen, president of the HPA, noted, "The HPA Tech Retreat is the de facto standard for in-depth exploration and thought provoking discussion for the technologies and trends impacting the media landscape. Once again, the program committee for the Super Session, the TR-X committee and our resident genius Mark Schubin have outdone themselves. It is at the HPA Tech Retreat that we meet and understand the rapidly changing world in which we live and work."
TR-X (Tech Retreat eXtra) returns for its second year, focusing on Artificial Intelligence and Machine Learning in a separately ticketed half day session Monday, 20 February. The Tuesday Supersession, moderated by HPA past president Leon Silverman and HPA board member Jerry Pierce, kicks off the official Tech Retreat. Wednesday through Friday begin back-to-back sessions and panels, under the direction of program maestro Schubin. A diverse array of breakfast roundtable discussions, led by key industry experts, start the day on Wednesday, Thursday, and Friday mornings. The Innovation Zone returns Tuesday through Thursday, presenting the opportunity to explore emerging and innovating technologies from nearly 60 companies at the vanguard of the industry, with a special focus on VR/AR.
SPEAKERS AND SESSIONS
A complete 2018 HPA Tech Retreat program, with schedule and speakers' bios, is available here. Additional sessions and speakers will be announced. (Please note the final schedule is subject to change.)
Monday 19 February: TR-X
Separate registration required
A half day of targeted panels, speakers and interaction, this year focusing on one of the most important topics our industry faces, Artificial Intelligence and Machine Learning. Topics include:
·      AI Impact on Media & Entertainment: What is Changing and Why?
·      The Potential for Partnering with AI in the Creative Process
·      Novel AI Implementations: Real World AI Case Studies
·      Content Intelligence: AI & Marketing
·      Bleeding Edge M&E Research
·      Panel of Experts What Will Happen and When?
Tuesday 20 February: Supersession
It's Still Snowing and We're Just Making Bigger and Better Snowmen: a continuation in the exploration of workflow evolution
Expert led session focused on how content is produced across the widest spectrum of content creation – from spots to blockbusters. From live, streaming to fully synthetic films without any humans before the camera. Topics include: how many K's are OK, how bright is bright and how HDR changes the game (or does it?). Will ACES ace this test? Is it always going to be like this? The Supersession offers the attendees the opportunity to understand how complex content reaches audiences, and the importance of the process to careers and businesses.
Wednesday 21 February Highlights
·      Mark Schubin's Technology Year in Review
·      Jim Burger, Thompson Coburn LLP, Washington Update
·      IMF Central
o   Howard Lukk, SMPTE
o   Bruce Devlin, Mr MXF
o   Mark Harrison, Digital Production Partnership (DPP)
o   Andy Wilson, DPP
o   Andy Quested, BBC
o   Bill Baggelaar, Sony Pictures
o   Tomasz Witkowski, Visual Data Media Services
o   Julián Fernández-Campón, Tedial
o   Clyde Smith, Fox, North American Broadcasters Association, coordinator
·      Broadcasters Panel
o   Matthew Goldman, Ericsson, moderator
·      CES Review
o   Peter Putman, ROAM Consulting
·      Advanced Cinema
o   Jean-Philippe Jacquemin, Barco
o   Scott Daly, Dolby Laboratories
o   Gary Demos, Image Essence
o   Tony Davis, RealD
o   Pete Ludé, Mission Rock Digital, coordinator
Thursday, 22 February Highlights
·      Flavors of HDR
o   Don Eklund, Sony Pictures Entertainment
o   Pat Griffis, Dolby Laboratories
o   Bill Mandel, Samsung
o   Andy Quested, BBC
o   Seth Hallen, Pixelogic and HPA, moderator
·      Establishing Metadata Guidelines for Downstream Image Presentation Management on Consumer Displays
o   Michael Chambliss, International Cinematographers Guild, moderator
·      ACES Update
o   Wolfgang Ruppel, RheiMain University of Applied Sciences
o   Annie Chang, Disney, coordinator,
·      Remote and Mobile Production Panel
o   Wolfgang Schram, PRG/Nocturne
o   John Vickery, Zeroth
o   Mark Chiolis, MobileTV Group, moderator
·      VR and the Eclipse
o   Alx Klive, 360 Designs
·      Pixar's Approach to Localization
o   Eric Pearson, Pixar
·      Automation of Versioning
o   Henry Gu, GIC
o   Cédric Lejeune, Éclair
o   Rich Welsh, Sundog Media Toolkit, coordinator
·      Understanding Blockchain for The Biz
o   Pete Ludé, Mission Rock Digital
o   Steve Wong, DXC Technology
·      Reinventing Digital Content Storage and Interchange with Decentralized Ledgers and Machine Learning
o   Michelle Munson and Serban Simu, Eluvio
·      The Project Budget War: Views from Both Sides and the In-Between
o   Jeff Stansfield, Advantage Video Systems
o   David Courtice, DC Creative
o   Larry O'Connor, OWC
o   Aaron Semmel, Semmelboomboom
o   Andy Marken, Marken Communications, moderator
·      eSPorts
o   Josh Rizzo
Friday, 23 February Highlights
·      Predicting Trends: Why We Get It Wrong and How to Get It Right
o   Mark Harrison, DPP
·      SMPTE Update
o   Howard Lukk, SMPTE
·      Detection of Modified Video
o   Ed Grogan, National Security Agency
·      Immersion and the Singularity: The Fusion of AI, Social, Advertising, and Entertainment
o   Lucas Wilson, Supersphere
·      Virtual Cinematography and Storytelling Engines
o   Ramy Katrib, Digital Film Tree
o   Adam Myhill, Unity Technologies
·      Perceptual Fatigue in Film, Broadcast and VR
o   Thomas Lund, Genelec
·      Where We Are Heading
o   Steve Lampen, Belden
Breakfast Roundtable Highlights
·      OBID: Revolutionizing Audience Measurement and More, Chris Lennon, MediAnswers
·      Testing IMF from the DPP, Andy Wilson, DPP
·      The Users Perspective from IMF UG, Pierre-Anthony Lemieux, IMF UG
·      NABA-IMF: The Route to Adoption, Clyde Smith, Fox, NABA
·      Measuring What We Can See: 4K, HDR, WCG, Lynn Yeazel & Steve Holmes, Tektronix
·      IP/PTP in Real-Time Production & Distribution, Karl Kuhn, Tektronix
·      Evaluation of Pixel Representation, Ronan Boitard, Barco
·      Migrating Production Studios to Data Centers, Andrew Osmond, Aperi
·      RealCV: AI Applied to Video Recognition, Reza Rassool, RealNetworks
·      Media Function Virtualization: a New Business Model, Andrew Osmond, Aperi
·      Understanding Blockchain, Steve Wong, DXC Technology
The 2018 HPA Tech Retreat is a limited attendance event, strictly capped at 600 guests, and is expected to sell out. Registration is open, and both day passes and full conference passes are available. Because this event will sell out, onsite registration is not allowed. Registration includes conference sessions, breakfast roundtables, demo room, some meals, and social events. TR-X is an additional registration and fee. More information about the HPA Tech Retreat, including program details, is available at www.hpatechretreat.com.